Alternative Break, Alternative Possibilities – Marian Knights Explore Local and Legislative Change to Promote Dignity of Individual
"This event was life changing," sophomore Magan Roell, Elementary Education major, said as she described her second experience attending and now leading the spring 2023 Alternative break to D.C. (AB DC).  Roell and nine other Knights had perspective-changing encounters with over 16 organizations, learning about Social Justice and Catholic social teaching. One major event was finding empowerment through lobbying and legislative change. 
A whole day was dedicated to learning from the organization Network, a company run by religious sisters who work on a federal level for social justice and teach people how to lobby. Network walked them through how to have conversations with Senator offices before and during the meetings. 
The focus of these conversations is on the New Dreamers Act of 2023 that is being voted on by the senate and asking the Senators to speak out against the asylum seeker ban that President Bidan recently enacted that blocks anyone looking for refuge in the U.S. 
The group talked with both Indiana Senators, personally with Todd Young and his office and shortly with Mike Braun, and then with Senator Vance from Ohio's office. 
Michelle Meer, director of the Bachelor of Social Work program and chair of the department of applied social sciences, said Vances's office is "an inviting and a wonderful listener."
Exposed to eye-opening injustices in systemic systems and learning about the Dream Act, Roell said she watched as those organizations who are fighting these systems did not do so out of anger, but perfect peace. Many of the groups they worked with promoted Catholic Social Teaching and lived Fransican lifestyles of simplicity and modesty. She is currently taking the Theology class Fransican Person and was able to see the perfect peace that is talked about in class be experienced by all ages in the modern day. 
"I expected to be much angrier about things," Roell said. "And I wasn't angry. I was uncomfortable and displeased. There's no point in being angry, anger isn't going to get things done. I realized that when I saw the perfect joy in the Franciscan community."
Marian has four Franciscan values that can be read all across campus, the big one that the AB DC group encountered is the dignity of the individual. They brought this value with them as they lobbied, worked in Homeless shelters and clinics, and discussed community building with Franciscan sisters and other human rights groups. 
Roall said everyone, no matter the country you are from, the race, sex, age, etc., everyone has dignity and that should be protected on every level of government and society. 
Amanda Scanameo, University Minister for Service and Catholic Social Teaching, is a leading figure in the planning and scheduling of the many activities of AB DC.
Scanameo is working with the group after coming back to debrief what they learned and saw and make plans to bring their experience back to Indianapolis. Two ideas are in conversation, one is to start restorative peace circles, taught to them by the DC Peace Team with the aim of healing division and bringing Marian closer together. Another idea is to bring Senator Mick Brong to campus so he can encounter the passion students have for social justice issues.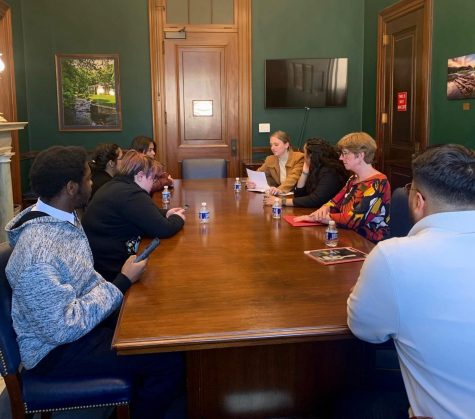 Scanameo is currently working on another AB to take place this Summer, 2023. The application for the Kuntonky AB trip in May is available here. Dates are May 6 to 13, the cost is $300 with financial aid available, and the focus is rural poverty, resilience, and ecojustice in Appalachia. Email khexamer[email protected] or [email protected] to answer any questions.