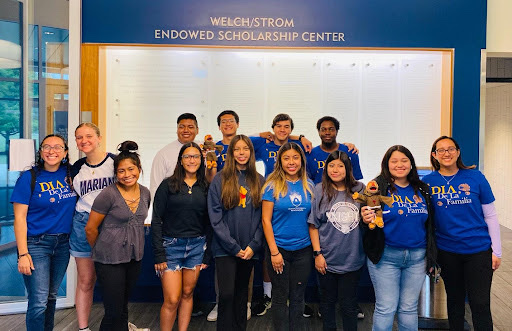 St. Francis, known as Little Frank, is a new college guide that has been introduced to Marian University. It  offers many resources to students around campus according to Bradley Wucher, Vice President for Enrollment and Marketing Communication. 
Little Frank offers a FAQ section in the  Marian website with all the answers  such as FAFSA, Finical Aid, scholarships, etc.
The version of the Saint Francis Little Frank is a muppet, which was designed and constructed by Jim Henson's Creatures Shop known for its expertise in puppets and live performances with artists. Spencer Lott, an SAG-AFTRA actor and voice artist, voices lLittle Frank. The Mascot appears on the Marian Website with helpful videos. 
Little Frank is here to help you navigate through your college journey, Wucher said.  
"It meant to be a guide targeting new students," Wucher said. "It can be terrifying living away from home and you are in a place where you don't know everybody, and you have to perform academically and responsibility you never have before, Frank is there to be supportive and reassuring about all those kinds of challenges." 
Students across campus have many opinions and questions to who little Frank is since he made his appearance this fall. 
Jeffery Martin, a Senior Communication Major, said "I personally don't know about little Frank, He is a good idea because he can also help out with Marian schools that can be from K-12."
Lydia Shock, a Junior Political Science and Sociology Major, said "He is a goofy little guy on the surface he is silly but genuinely I don't understand his purpose and  why we have him because this is a college for adults not for children."