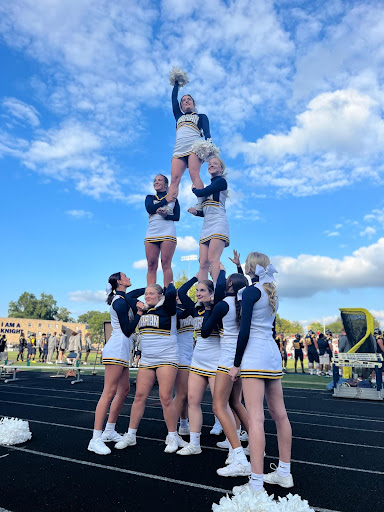 The Knights had a victorious win against the St. Xavier football team on Saturday, Sept. 9 with a score of 28-21. The Marian University Cheerleaders and Dance team started the pre-game with performances from both teams.
Kick-off for the first home game was at 6:05 p.m. The Knights started off strong at the beginning of the first quarter with two touchdowns making it 14-0. Then with 1:54 left on the clock, St. Xavier scored a touchdown off of a kickoff return. The second quarter was action-packed right before halftime with touchdowns for both teams. Going into the half the score was 14-21. St. Xavier came out of halftime fighting scoring a touchdown in the third quarter and keeping the Knights at bay. With the end of the game approaching the Knights were able to score with seven minutes left. Marian was able to win its first-ranked game of the season. Adrian Cuevas, a redshirt fifth-year defensive back, picked the first interception of the game. "It is all about working together and watching what happening on the field to find the opportunity," said Cuevas. 
Saturday's game was also Football Alumni Day. Put on by the Office of Alumni Engagement, this was an opportunity for football alumni to reconnect with old teammates and support current Knights.
"The Office of Alumni Engagement works to create opportunities for alumni to reconnect with Marian in ways that are meaningful for them. We take the lead on planning an alumni event such as Football Alumni Day, however, we work closely with our campus partners, such as athletics, campus ops, Aramark, and our colleagues in Institutional Advancement to accomplish our goals. Every detail from invitation, promotion, and execution requires many departments working together for success," said Lilandra Dwenger-Lestz, the assistant director of alumni engagement, and Jennifer Waning, the executive director of alumni engagement.
There have been many changes within Marian's Athletic Department. This was the first home football game for new staff such as head coach Ted Karras. In 2006 he was the first head football coach for Marian. He built the program from the ground and led the program to a NAIA National Championship in 2012.  He feels great being back on campus.
"One of the reasons that Marian College started football was to increase campus vibrancy.  To see the vision of President Elsener and the Board of Trustees come to fruition has been fascinating. Marian University is more vibrant than ever!" Karras said.
When asked about his goals for the football program, he said, "Short-term goals are to continue to come together as a team and coaching staff, win games, and have fun doing it. Long-term goals are to continue to develop our student-athletes in mind, body, and spirit, win at a high level, and have fun doing it!"
Also experiencing their first home football game is Assistant Atheltic Director Linny Rousseau. She graduated from Marian in 2021 and then started her career in professional sports. In October 2021 Rousseau returned to Marian as the Assistant Director of Alumni Engagement till May 2023 then transferred to her current position.
For Rousseau, the new role brought together all of the things she loves. This summer she rebuilt Marian's ticketing system and website which can be viewed here. In her role, she also helps with most of our day-to-day operations like compliance paperwork, coaching onboarding, invoicing, etc. She is most excited about the newly established NAIA-required role of Senior Woman Administrator. This is the highest-ranking female involved in the management of an institution's athletics program.
"This role provides female leadership presence in the department. I am a huge advocate for women in sports – I even had a podcast as a student with the Phoenix called "We Belong". Though I no longer have the podcast, this is still one of the things I'm most passionate about," said Rousseau. She was anticipating the big game saying, "I am excited to see the stands filled as we take on an old rival. It should be a great season and I'm hoping to provide the best experience to all those in attendance! Go Knights!"
The Knights are back in action on Saturday, Sept. 16 at home against  Olivet Nazarene University at 1:05 p.m.